1889 Mme Veitch-Simonds Drapery System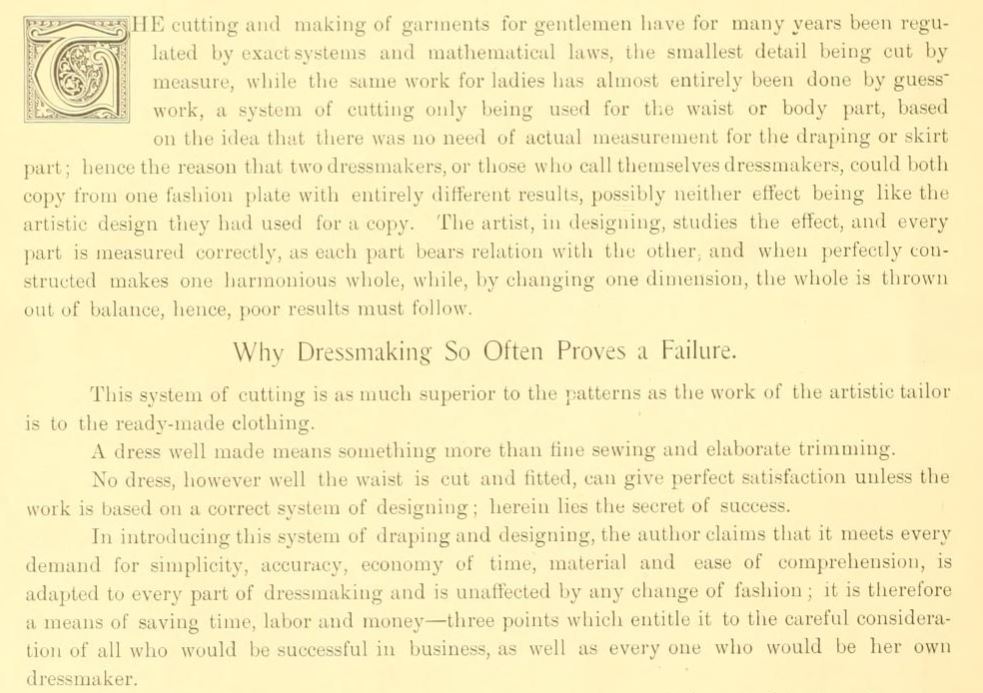 Mme. Veitch-Simonds' drapery system chart ..
by Simonds, Annie Maria (Veitch), Mrs., 1858- [from old catalog]
Publication date 1889
Topics Dressmaking. [from old catalog]
Publisher Milwaukee, Cramer, Aikens & Cramer, engravers & printers
Collection library_of_congress; americana
Digitizing sponsor Sloan Foundation
Contributor The Library of Congress
Language English
No diagrams, very nice line art of designs. This book is really intended for those familiar with draping and drafting.
Having reviewed several centuries worth of pattern diagrams this book is correct in that skirts tended to be less precisely measured than body garments but that is the nature of skirts through history. Until the 1860s there was not a lot of variation in skirts in each era/style. Most cutting books are dedicated to best use of fabric and so the careful planning is channeled into that. The creative piecing to make most use of fabric, with enough flexibility to adapt to the amount of fabric supplied.
Once you start adding shaped drapery and shaped trimming, rather than strips of fabric tapered or plain, the need for accurate cut to a dedicated shape come in.
By 1889 skirts had gone through extreme transformation. While based on a couple of very plain bases there could be pleats all around or cut and shaped to full one shape on one side, drapery was shaped and symmetric.