Adapting the Gored Skirt from Regency to Edwardian
The basic skirt pattern from around 1800-1900 was very easy to adapt to changing fashion, and with the proliferation of dressmaking books with patterns in the 1860s we have a wealth of information on the basic principles.
Interestingly after this date many dressmaking books did not keep up well with fashion and you can find 1860s pattern blocks in use in both books and extant garments.
The following diagrams show a few variations of the basic principles of a front panel with gored sides, two sets of side gores with a straight and gored edge, and a back panel that is a rectangle.
Regency skirt:
This is quite flared but falls reasonably straight because of the straight leading edge of each side panel.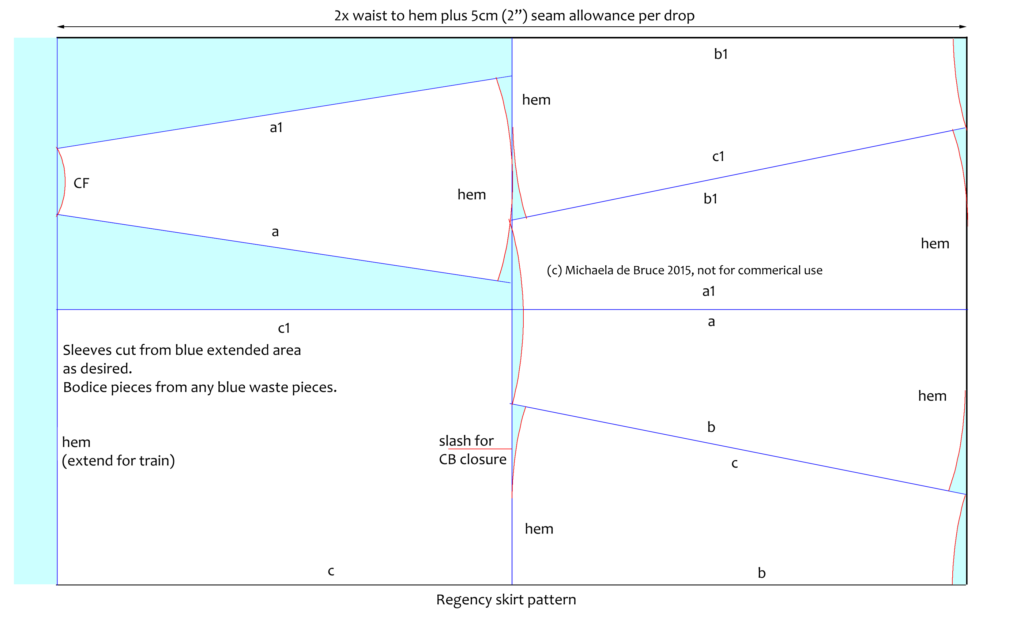 Romantic
The Romantic skirt is cut from straight widths of fabric commonly, this persists to the late 1850s.
Crinoline to first bustle
The early crinolines were even in front and back so the skirts could still be cut as straight panels but increasingly needed more care in shaped pleats at the waist returning to a gored skirt pattern.
As the crinolines narrowed at the waist, then moved the shape to the rear the standard gored pattern was able to adapt through shaping the waist to hip of the gores.
Natural form
The very straight skirts of the late 1870s and very early 1880s require straighter gored edges and the front panel can be a tube with darts at the waist to stabilise a flat tablier that could be heavily shirred, or covered in flounces, or even beading. The side gores are still helpful for any small bustle that were present in the lead up and ending of this era. The back train is able to be gathered and tied from waist to lower thigh for the most extreme form- the ties are high enough that the lower legs still have enough fabric to kick forward to walk.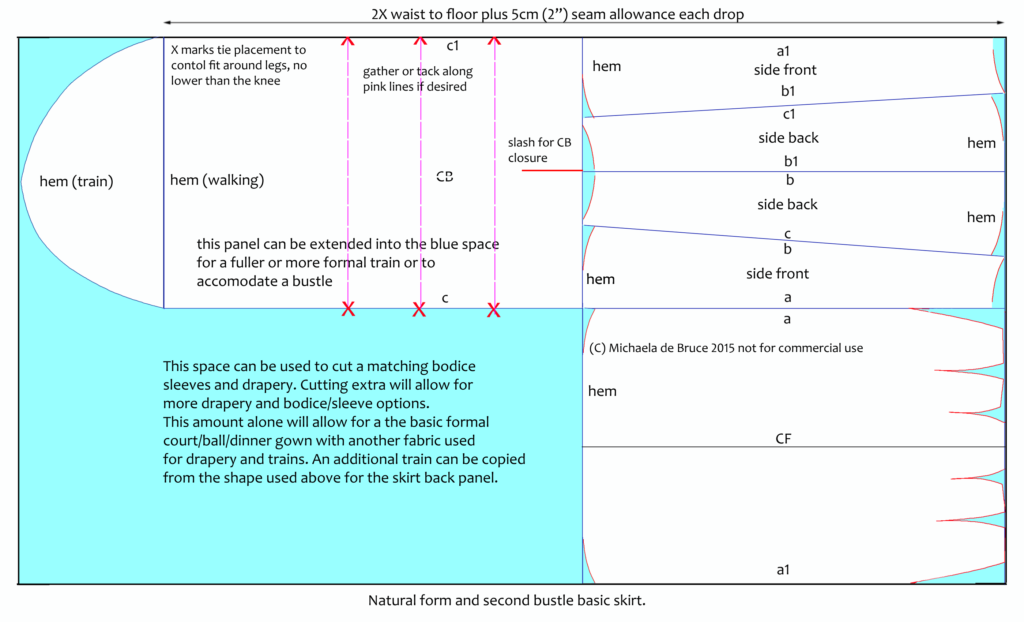 Second Bustle
The second bustle retained the tubular/flat from skirt and the side gores retained but the tops made to fit over the much more horizontal bustle. Other options included a shape yoke to sit over the hips and bustle then the skirt fully kilted (pleated) around the hem of the yoke. They yoke thus had to have a perfectly horizontal hem.
1890s
The very flared skirts of the 1890s still used these straight edge side panels, but with a greater flare on the back of these. This cuts away more fabric from the waist so can be trimmed more closely at the the waist to hip and push the excess waist fabric further to the back. Eventually the gored sides became curved, even while retaining a straight front edge. The gores could also all be cut like the front panel which was especially effective with striped fabrics to create a chevron pattern at each seam.